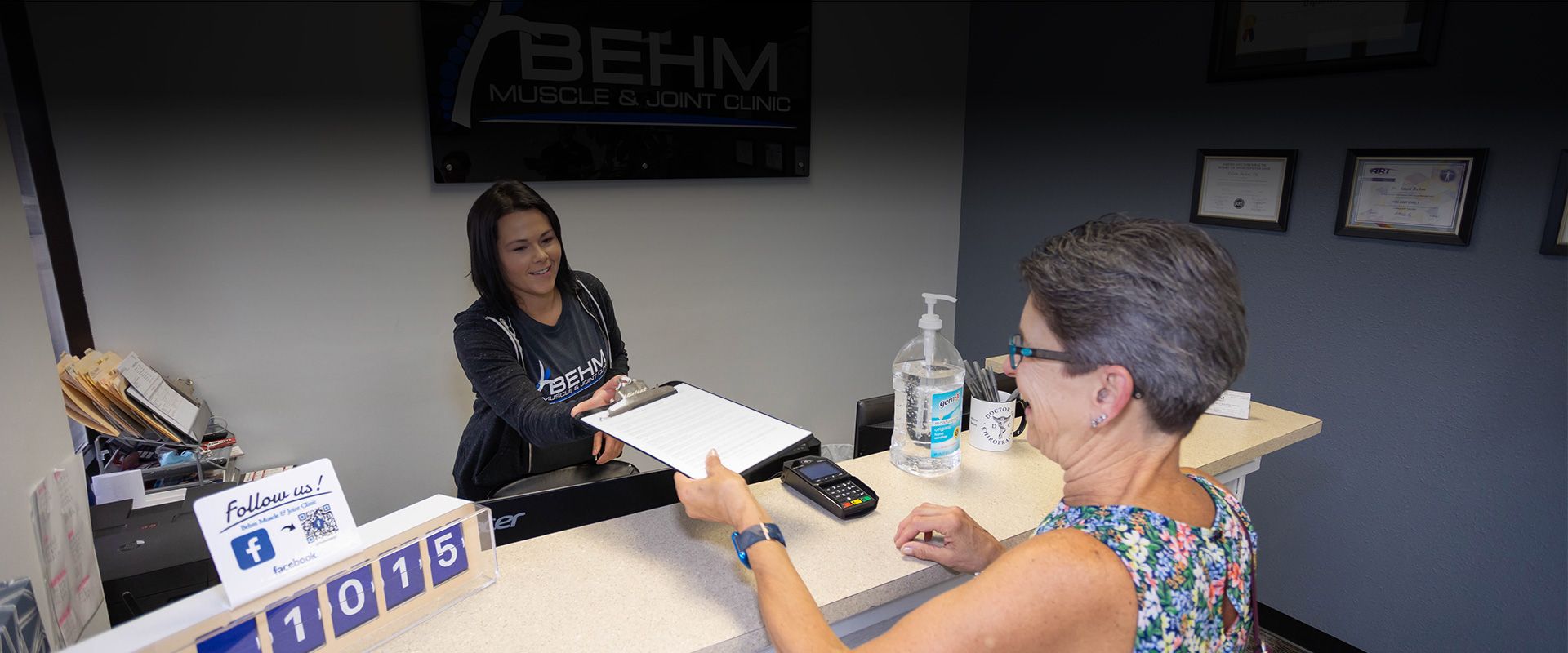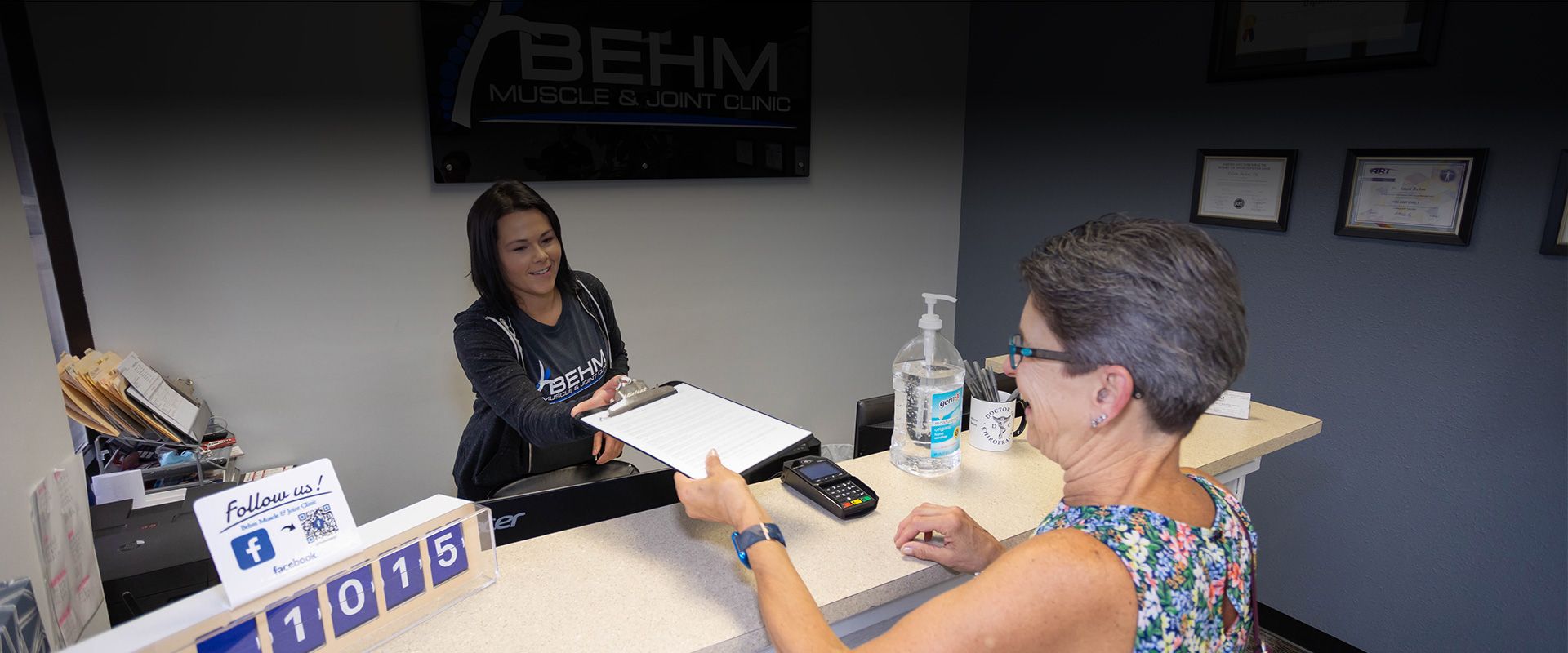 137
+

Patient Reviews on Google
Combined 5.0 Star Rating (out of 5)
186
+

Patient Reviews on Facebook
Hear From Our Patients
Behm Muscle & Joint Clinic is both an award-winning chiropractic clinic and one of the best rated chiropractors in the Bellevue, NE area. But, don't take our word for it! Check out some of the reviews we've received from our amazing patients!
"Have had intense pain in my neck for over 5 years. I've tried many doctors, lots of chiropractors, and multiple physical therapists. I even had a (very painful) procedure done to destroy the nerve in my neck. Nothing worked. Until I went to Behm. For the first time in over 5 years, I've been able to go more than a couple of days without pain. And now, on top of treating my neck, he's working in my plantar fasciitis. Completely and totally recommend for any one with muscle or joint pain."
"I was unable to perform squats without hip pain. Dr. Behm treated me with ART and I am now able to squat without any hip pain!"
"Dr. Behm was extremely helpful with my hand injury. I was in a lot of pain, and now I have none. I would strongly recommend Dr. Behm!"
"Dr. Behm is professional, helpful & knows that motion is medicine."
"Dr. Behm fixed my back pain!"
"Phenomenal! The combination of adjustments and rehab have tremendously relieved my back/neck pain!!"
"Best chiropractor out there!! Adam is compassionate about his career and it shows!!"
"I have had lower back pain for 7 years and have never found a solution until I saw Dr. Behm. He figured out what was wrong and then gave me stretches to do at home to correct the problem."
"I scheduled an appointment with Dr. Behm due to pain in both shoulders and after several office visits, expertise treatment, and recommended exercises, my shoulders have felt better than they have in several years. I appreciate the treatment and the effort Dr. Behm went to explaining what was causing the pain."
"So now, Dr. Behm has become the first chiropractor in over 35 years to relieve my lower back pain. Dry needling did it. Any doubts about this technique should be put aside. Allow Dr. Behm to show you the benefits of dry needling. He can legitimately be called Dr. Miracle Worker."
"My husband found Dr. Behm after eating at the Chinese restaurant next door and he decided to give it a try. Knowing I like chiropractors that were also able to do ART (active release technique), he made an appointment for me to go here as well! When I first heard where he was located though, I was shocked because, well, we do not live close to Bellevue at all! In fact, it takes almost 40 minutes to get here! However, it is all worth it.
Dr. Behm is very thorough and uses the techniques he knows to help you get the best results! I am fully impressed with him! I have been having lots of trouble with my leg and ankle and now, I feel it's on the road to recovery. I also used to get a lot of tension headaches but now, with his care and some stretching exercises, I don't get them as often. Dr. Behm is great! He is open days and hours that can accommodate most people and he also takes some insurance plans! Check him out! I highly recommend him!"
"Dr. Behm is great! He's not your typical Chiropractor more of a physical therapy and chiropractor. I have seen him for about 2 weeks now and my hip feels so much better. He takes time with you and explains everything about what he is doing. Not just adjust and send you on your way, he does ART and dry needling on my hip and then exercises. I tell everyone about him."
"I have suffered back pain and sciatica for years on and off. I travel with work which recently brought me to Bellevue, NE, during which I experienced debilitating hip and leg pain. None of the stretches I had used previously brought me any relief. Behm asked a series of questions, and after gathering the information he needed administered a series of new stretches. Long story short, in a 30 minute office visit he completely relieved my pain. I would highly recommend his practice to anyone, even if you are seeking temporary relief from pain during business travel. Well worth the time and money!"
"Today was my first visit,it was awesome I really liked it,I recommend it to anyone who needs this type of help you will like the relief"
"Before going to Dr. Behm I could hardly bend over without the worst pain ever! After Dr. Behm's intense plan of care, I am now pain free! He is very caring and wants everyone to experience what is is like to be pain free!"
"I have so much respect for this wonderful Doctor. After dealing with Fibromyalgia for 40 years and many days I didn't really care about trying anymore, he has put work into me, like I was his only patient. Camping with the Grandchildren all this last summer, was something I never thought I would be able to do. Life is good!!"
"Thanks Adam for all your help! I finished the Yosemite Half Marathon yesterday, went for a 3 mile hike to see the sequoias at the Merced Grove today, and tomorrow, Dan and I will be hiking up to Half Dome!"
"After being told that I have TMJ and my dentist wanted to start with a splint and then maybe more invasive procedures I looked for another option. I found Behm Muscle & Joint Clinic online and have been blown away by how fast my TMJ pain has gone down. I highly recommend you give Dr. Behm a call!"
"Dr. Behm is the best muscle and joint guy i have ever been too. i have a lot of tight muscles within my body and born with some awkward sitting joints that have caused me pain over the years. he is helping solve those issues with each visit i see him. he takes the time to listen to your concerns, he's helps you and then presents feasible home solutions to work with till your next appointment or if you get your issue solved how to keep it solved. i will (and have) recommend him all day any day."
Are you experiencing pain or stiffness?
Schedule an appointment with our chiropractic team today!